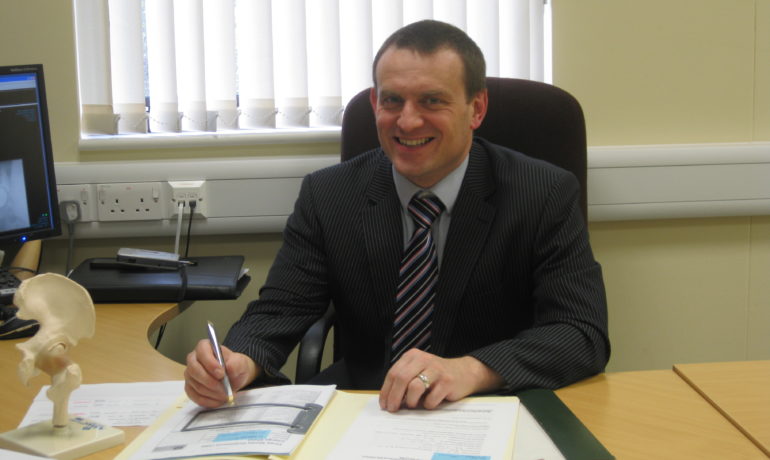 Mr Gary Mundy - Senior Consultant Orthopaedic Surgeon
MBChB, LLM, FRCS (Trauma & Orth) FRCS, FRCSEd, FRCSGlasg, MFSEM
Gary Mundy is based at Northampton General Hospital. he has been the the clinical director for trauma and orthopaedics since 2019.  He  undertakes both NHS and private  practice at  the BMI Three Shires Hospital in Northampton, and the Ramsay NHS Treatment Centre in Banbury. 
Mr Mundy qualified from the University of Manchester in 1996 and completed basic surgical training in the East Midlands. He achieved membership of three royal surgical colleges – London, Glasgow and Edinburgh in 2000.
His specialist orthopaedic training was on the Mid Trent training programme. He passed the intercollegiate board examination in Orthopaedics in 2008 and in the same year obtained a diploma in Sports and Exercise Medicine from the University of Bath.  
For the final year of his training Mr Mundy undertook a senior fellowship in joint replacement surgery  at  world renowned Royal National Orthopaedic Hospital Stanmore in London. This fellowship enabled him to develop expertise in  all aspects of joint replacement surgery including complex primary reconstruction, rheumatoid surgery, hip resurfacing,  and the demanding techniques needed to undertake revision hip and knee joint replacement surgery.  He also learnt the techniques of massive prostheses for tumour and limb salvage which he uses in his metastatic tumour and trauma practice at Northampton. 
He was appointed as a consultant revision hip and knee specialist surgeon in 2010.   He has significant experience in joint replacement surgery having undertaken over 2500 primary joint replacements and 300 revision (redo) joint replacements and is the senior revision surgeon based in Northampton. He undertakes  revision knee and hip replacements on patients with worn or infected joint replacements for example and has a wealth of experience of treating patients whom have sustained a fracture around their hip or knee replacements – known as a periprosthetic fracture.  In 2016 along with colleagues in Leicester and Kettering he was instrumental in setting up the East Midlands South Orthopaedic Network (EMSSON) The network of  revision surgeons from Leicester, Kettering and Northampton and   an infectious diseases consultant meet weekly to discuss complex hip and knee related problems in the region. 
He also has a specialist interest in musculoskeletal tumours and is the musculoskeletal/metastatic tumour lead at Northampton. He  established  a two week wait soft tissue/ sarcoma referral clinic at Northampton General hospital in 2011 which is now part of the East Midlands Sarcoma network. 
He has a weekly soft tissue sarcoma referral clinic at Northampton General Hospital and treats benign soft tissue swellings such as lipomas. He undertakes complex joint replacements  including proximal femoral replacements and distal femoral replacements for those patients with metastatic tumours, as well as offering prophylactic fixation.  This involves close working with the oncology department. 
He has an interest in Sports and Exercise Medicine, Sports Injury and is a member of the Faculty of Sports and Exercise medicine. https://www.fsem.ac.uk/
Mr. Mundy is a Fellow of the British Orthopaedic Association. He is a member of the British Hip Society, British Association for Surgery of the Knee, British Patellofemoral society and the British Orthopaedic Oncology Society. He is an international member of the American Hip and Knee Society and American Association of Orthopaedic Surgeons. 
As well as providing a comprehensive elective practice in hip and knee pathology, soft tissue lumps and bumps, Mr Mundy has a keen interest in lower limb trauma. He has a regular trauma practice at Northampton General hospital  and is a faculty member on the AO national operative fracture management course.
His other interests include medical law and he was awarded with distinction a Masters  degree in Medical law and Ethics from De Montfort University in 2020.  He is a member of the Medico-Legal Society.
Outside of work he has a busy family life with three children, enjoys watching rugby, walking and is trying to learn French and Spanish.
Before the operation I had a good deal of pain but this has all gone now. Today i walked completely around the park at Stowe - probably four miles and my wife is delighted - back to the walking we loved
Clinics:
BMI Three Shires Northampton
Ramsay Treatment Centre, Banbury
Primary + Revision Hip replacement
Primary + Revision Knee Replacement
Sports injuries
Arthroscopic knee surgery
Trauma surgery
Musculoskeletal soft tissue swellings
Medicolegal services
Telephone:
For an appointment please call Ingrid on 0800 7720 620
I can see you for a face to face appointment, or if you are concerned with regards to the COVID situation telephone appointments continue to be offered. (Updated 31st May 2022)