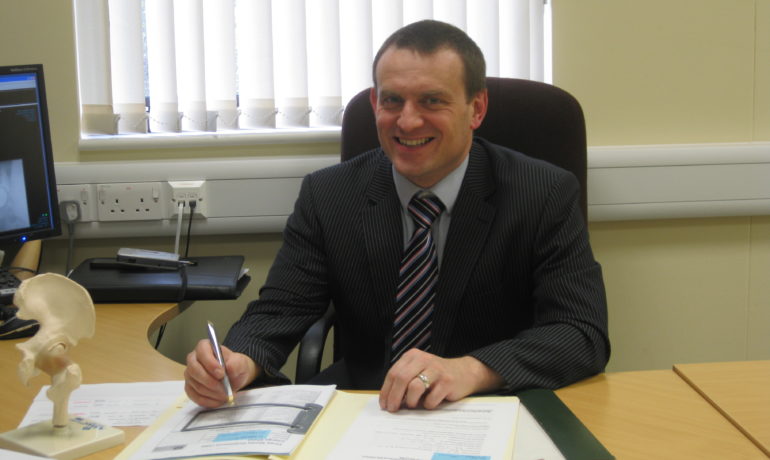 Mr Gary Mundy, Consultant Orthopaedic Surgeon
MBChB FRCS (Trauma & Orth) FRCS, FRCSEd, FRCSGlasg, , Diploma Sports and Exercise Medicine
Gary Mundy is a consultant orthopaedic lower limb surgeon based at Northampton General Hospital and the BMI Three Shires Hospital in Northampton.
As a lower limb specialist Mr Mundy's practice involves the assessment and management of lower limb related problems. Mr Mundy provides a comprehensive service for the management of hip, knee and foot and ankle related problems.
Mr Mundy qualified from the University of Manchester in 1996 and completed basic surgical training in the East Midlands. He achieved membership of three royal surgical colleges – London, Glasgow and Edinburgh in 2000.
His specialist orthopaedic training was on the Mid Trent training programme. He passed the intercollegiate board examination in Orthopaedics in 2008.
For the final year of his training Mr Mundy undertook a senior fellowship in lower limb arthroplasty based at High Wycombe and The Royal National Orthopaedic Hospital Stanmore, London. This fellowship allowed experience and training in all aspects of lower limb arthroplasty including, complex primary reconstruction, rheumatoid surgery, hip resurfacing, all aspects of hip and knee revision surgery and the use of massive prostheses for tumour and limb salvage.
Mr. Mundy is a member of the British Orthopaedic association. He also has a diploma in sports medicine and is a member of the faculty of sports medicine.
As well as providing a comprehensive elective practice in lower limb problems, Mr Mundy has a keen interest in lower limb trauma and is a faculty member on the AO national operative fracture management course.
It has been three week since you gave me my new knee and I wanted to thank you all for your skill and kindness – it has given me a new lease of life without the pain I have had for so many years.
Clinic: BMI Three Shires, Northampton
Speciality Lower Limb Specialist